Home
356/356A
4 Sale
Racing
Stammtisch
Service
Workshop
Galerie
Beutler
Links
Kontakt

Beutler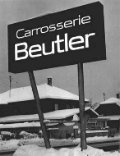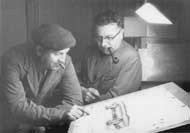 The cars of two brothers from Thun/Switzerland
Beutler - Cabriolet (1949)

Porsche No
Beutler No
Date

356/2 - 002
356/2 - 003
356/2 - 021
356/2 - 024
356/2 - 028
356/2 - 030

1030
1033-1
1033-2
1033-3
1033-4
1033-5
Jan. 1949
March 1949
"
"
"
Aug. 1949
#1033-1, Gmünd-Porsche based Beutler from 1949. This is the 3rd oldest Porsche in the world. Car was owned by Mohamed Taher Pascha. Since 1960 the car is in hands of Porsche enthusiast H.-P. Wyssmann from Switzerland. After a complete restoration the car is in show condition and won many awards.
Another car from the 1949 production. Seen in a showroom at the Porsche dealership in Zurich/Switzerland.
Beutler - Porsche 2+2 (1958-62)
Porsche No
Beutler No
Date

12335
13011
13030
13031
13069
13114
13175

1175
1182
1192
1193
1201
1213
1214
Dez. 1958
May 1959
Nov. 1959
"
May 1960
Nov. 1960
Nov. 1961
#1175, Porsche 356A based Beutler from 1958. This is a 4-seater prototyp made in winter 1958/59. The car was owned by a swiss businessman until late 60´s. It went to USA and was in storage until 1994. Then the car came back to Germany and is owned by Uwe Biegner.
#1182, Porsche 356A based Beutler from 1959. This is the first and only Beutler-Porsche Cabriolet. It was a special order by the Count of Württemberg. After many years in Germany the car was also sold to USA and went through many hands. Today it is restored and owned by Stanley Gold from California.
#1193-30, Porsche 356B based Beutler from 1960. The car shows many changes compared to the earlier cars. Now, Beutler began to use more Porsche 356 parts. This car went to USA when new. Today it is owned by Jim Watson from Tennessee.
#1193-31, Porsche 356B based Beutler from 1960. This is the sistercar to #1193-30. Both cars are made at the same time at Beutler in Thun. The car still has it´s original paint and most of the original interior. It is also owned by Jim Watson.
#1201, Porsche 356B based Beutler from 1960. This car was a special order for Bill Jones from Texas. After several owners the car was purchased by Henry Walker during the 1992 Porsche Parade in San Diego. After finishing the restoration the car was shown at many Porsche events at the west coast.
#1213 + 1214, Porsche 356B based Beutler´s from 1961. The cars show some slight differences to the prior cars and were delivered to Brumos of Jacksonville/Florida in 1961. The remain of the cars is unknown. There are rumors that at least one car is still in Florida.
---
Webdesign by Marcel Voigt
© 2003-2009 Typ356.de - Alle Rechte vorbehalten
Veröffentlichung von Texten oder Fotos nur mit ausdrücklicher Genehmigung.